To start things off, the last thing I believe I mentioned was my JCL competition. I got third in my category, and our level got third in Certamen--which is cool, because I was drafted!
I think I've had some major wants lately when it comes to nail lacquer, major..major..and I'm just a kid who occasionally works for my parents and no allowance, which = very little $$. I'm eager to get the new Summer Day's collection from China Glaze once Sally's starts selling them--because with a Sally's Beauty Club card you get them (regular about six dollars) for $3.25, a wicked deal! I've also been wanting Nubar's Pastel Collection --needs-- and to start working on Konading, something I've been saving up for for a while, but whenever I get that whole twenty dollars I need to have free shipping, I end up buying something else with it.
Speaking of which--Palais Royal sale. Doubt I'll go to it. =[
Anyhow, I remembered that most snakes are tamed at a young age. Meaning, if I just feed them and take care of their environment, but never ever hold them, they'll most likely to be more violent and snippery when they're adults (most in particular, my BCI, and I would rather he be friendly when he gets to be eight feet long). So today I spent a bit holding Tangles and Heimlich, and I took a few pictures.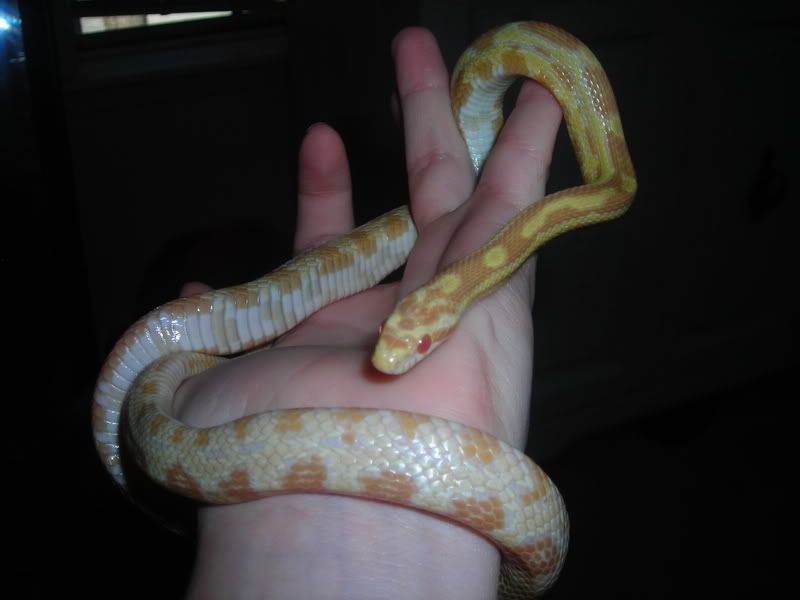 Now Tangles, she is the sweetest most beautiful snake in the world. In some areas her scales are such a bright rich yellow I absolutely adore, and instead of the common maize (corn)-like appearance of this corn snake on the bottom, she is white. I think she is absolutely gorgeous--of course, most snake lovers wouldn't say that at all..but she is absolutely adorable! She's a bit more than a year old, and still quite tiny. She's about 32 inches long, and very very thin.

Heimlich is a little bit less than 32 inches long, a little bit more than two feet, however he's quite the thickness. He doesn't really like to take pictures, but he'll move his upper body up in a straight line about half a foot in any direction and that doesn't entirely work for photographs. I'll admit that I am a bit afraid of him during his feeding time, when he can be snappy, and has snapped at me once (but not in attempts to bite), but generally he is quite friendly and already has a good muscled crimp on my arm.
Good moustache, too.

You might have heard rumours about the opacity of the Romantique collection. This collection looks quite bland and boring inside the bottle, but outside it is gorgeous. I only own one, Harmony, of the China Glaze Romantique Collection, and I hope to buy more soon. These rumours are true. Complete opacity was gained after ONE COAT. It's unbelievably pretty, but it doesn't want to take pictures well. Forever, it would take blue and silvery pictures--and let me assure you that this nail polish is far from anything but purple. I wasn't entirely patient on waiting for it to dry, and so it got a bit denty.
I hope to stock up a bit more. I have plenty of nail polish, but none of it is exactly of any worth or interest. I'll just take a picture when I put it on and maybe put them all up if it comes to that.
--Loves questions, comments, concerns, etc.
Love,
D.B.